Upper cervical chiropractic

Important Update 05/12/2023
Dr Oscar Finn currently has a wait list for new Upper Cervical patients as of 05/12/2023
If you have been referred to our practice for Upper Cervical Chiropractic from a Neuromuscular Dentist, Neurologist or ENT – please call our reception staff to triage your referral if urgent
Sims & Finn Chiropractic Frankston
03 5902 7081
---
Fees  
Initial consultation + Examination + Blair Specific Digital x-rays – $435
Blair Upper Cervical Chiropractic Adjustment – $87
*Please note we are unable to accept TAC, DVA or Work Cover funding; payment is due when services are rendered.
---
Upper cervical chiropractic is utilised by chiropractors that place a strong focus on the alignment of the head and neck, as we do in our office with our focus on neuro-structural correction.
The first vertebra (spinal bone) in your neck is called the Atlas, also known as C1. It is a ring like bone. The second vertebra is called the axis, also known as C2. Together these two vertebra comprise what is commonly referred to as the upper cervical spine.
The Atlas and Axis are in close proximity to a portion of the central nervous system called the brainstem. Your brainstem is responsible for the control and coordination for many of your body's vital functions. When changes to the connective tissues occurs due to accidents and injuries (1), Atlas and Axis can misalign and lock into a stressed abnormal position, resulting in pressure, tension (2), irritation, disruption to blood flow (3) and cerebrospinal fluid circulation (4).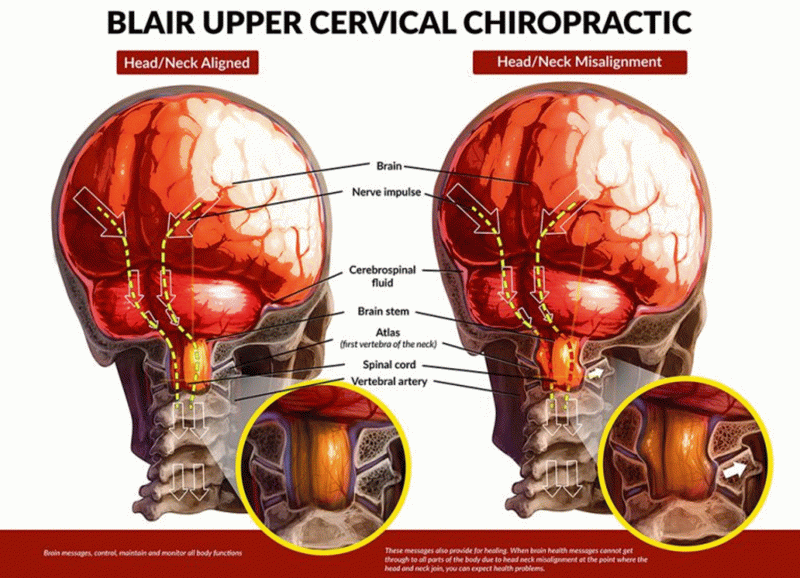 The purpose of an upper cervical adjustment is to restore normal structural alignment of the head and neck. By addressing this underlying primary neuro-structural shift, restoration of many normal functions is allowed to occur, such as blood flow to the head and neck (5), improved flow of cerebrospinal fluid (CSF) (4), and improvements to the relationship between the brainstem and spinal cord.
Upper cervical subluxations may also result in Postural Distortion in the spine below.
Upper cervical adjustments are very specific and gentle. There is no turning or rotation of the neck, and no 'popping' or 'cracking' noises. An evaluation is conducted on each visit to determine if there have been any neuro-structural changes in between visits requiring a specific adjustment to realign the upper cervical spine.
Because of the specific nature of neuro-structural care, chiropractors who utilize Atlas Corrections usually see a variety of complex neurological cases in their offices, in addition to some of the more common chiropractic cases such as back pain, neck pain, headaches, etc. Some of the more neurologically-based secondary conditions include:
Migraines (6)
Tinnitus (7)
Vertigo (8)
It is understandable that many people are hesitant to having their head and neck examined. Because of the precise and gentle nature of Atlas Corrections and Neuro-structural chiropractic care, there have been little to no adverse effects reported.
More importantly, a Structural Shift of the Atlas (called Atlas Displacement Complex), is frequently the underlying cause of many secondary health conditions and once corrected, the body is allowed to function to its optimal potential.
Research
(1) Demetrious J. (2007). Post-traumatic upper cervical subluxation visualized by MRI: a case report. Chiropractic & osteopathy, 15, 20. doi:10.1186/1746-1340-15-20
(2) Upper Cervical and Upper Thoracic Thrust Manipulation Versus Nonthrust Mobilization in Patients With Mechanical Neck Pain: A Multicenter Randomized Clinical Trial Published: Journal of Orthopaedic & Sports Physical Therapy, 2012 Volume:42 Issue:1 Pages:5–18 DOI:10.2519/jospt.2012.3894
(3) Bakris, G., Dickholtz, M., Meyer, P. et al. Atlas vertebra realignment and achievement of arterial pressure goal in hypertensive patients: a pilot study. J Hum Hypertens 21, 347–352 (2007) doi:10.1038/sj.jhh.1002133
(4) Ann Ital Chir. 2015 May-Jun;86(3):192-200.Preliminary results after upper cervical chiropractic care in patients with chronic cerebro-spinal venous insufficiency and multiple sclerosis. Mandolesi S, Marceca G, Moser J, Niglio T, d'Alessandro A, Ciccone MM, Zito A, Mandolesi D, d'Alessandro A, Fedele F.
(5) Djordje, R., Nenad, I., Jovo, K., Dragan, S., Želimir, A., Slobodan, T., … Petar, O. (2014). Incidence and distribution of extravascular compression of extracranial venous pathway in patients with chronic cerebrospinal venous insufficiency and multiple sclerosis. Phlebology, 29(7), 476–479. https://doi.org/10.1177/0268355513486638(6) Richerson A, Varnum C and Alcantara J (2019), "Resolution of Chronic Migraines and Neck Pain in a 23-Year-Old Female Following Chiropractic Care for Vertebral Subluxations: A Case Study and Review of the Literature," Annals of Vertebral Subluxation Research, July 2019, pp. 90 – 103
(6) Chung, J and O'Connell, C, (2017), "Resolution of Symptoms in a Patient Suffering From Meniere's Disease Following Specific Upper Cervical Chiropractic Care: A Case Study and Review of Literature," Journal Upper Cervical Chiropractic Research, January 2, 2017
(7) Johnston, J. L., Daye, P. M., & Thomson, G. T. (2017). Inaccurate Saccades and Enhanced Vestibulo-Ocular Reflex Suppression during Combined Eye-Head Movements in Patients with Chronic Neck Pain: Possible Implications for Cervical Vertigo. Frontiers in neurology, 8, 23. doi:10.3389/fneur.2017.00023
We are excited to have you as a patient at Sims & Finn Chiropractic
Our goal is to assess you thoroughly to determine if you have a structural shift in your spine causing secondary condition (symptoms).
We then explain and provide you with care options. We customise a plan of care for you, taking into consideration your age, health and lifestyle factors.
Once we have worked together to create the necessary health improvements, we will assist you in choices to maintain the corrections you have achieved.
All major health funds accepted

Please contact us if your health fund is not listed below